With only days until Miss Markle becomes Mrs Windsor, we've got wedding fever at the Rose & Crown, Colchester. Even more so than usual – and that's saying something!
So, we thought we'd take this opportunity, ahead of the Royal nuptials, to reflect on the recent wedding of a couple that tied the knot – right here – at The Rose & Crown Colchester.
From Australia to Colchester
Sandra Grimback married Michael Swan on March 31st, after Michael popped the question on a romantic trip to Tower Bridge in London.
The Colchester pair met whilst backpacking in Australia. And with only 5 days left of her trip, fate intervened when Sandra ran into Michael in the hostel where they were both staying. The rest as they say is history!
The Swan's celebrated with 46 day guests and 80 evening attendees. Including the couple's 18-month-old daughter who did mum and dad proud by dancing the night away!
They chose Ed Sheeren's 'Perfect' for their first dance and fed their guests a dinner of traditional roast beef with all the trimmings.
For their honeymoon Sandra and Michael are planning on a trip to Dubai. We wish them all the best for that adventure, and for their future married life.
Sandra was even kind enough to share a few special photos from the day, which we're sure you'll agree look absolutely stunning.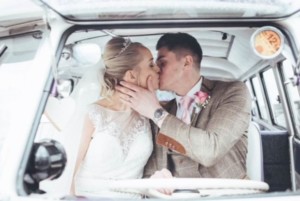 Find out more about weddings at The Rose and Crown Hotel Colchester