Small Wedding Ideas and Why Big Isn't Always Better
Anyone who was planning a big, white wedding in 2020 has our greatest sympathy, since most plans have been thrown into chaos.
The chances are, you had a guest list in mind of 100 or more, and now you're having to whittle it down to just 15. Your wedding venue has had to shrink and you're not sure how you can entertain those 15 people without feeling sad at the fact that the other 85 are nowhere to be seen.
Don't despair! Here at The Rose and Crown Hotel, we've been helping couples create the ideal small wedding for years. You don't need guest numbers in triple figures, and you don't need a huge party with more people than you will ever get around to speaking to!
You simply need the person you're going to marry, your closest family and friends, and a photographer to capture it all.
We have some fantastic low key wedding ideas to share with you and hopefully by the end of this, you'll have shaken off some of your understandable disappointment and be looking forward to creating a beautiful and intimate wedding of your own.
---
Why Have a Small Wedding?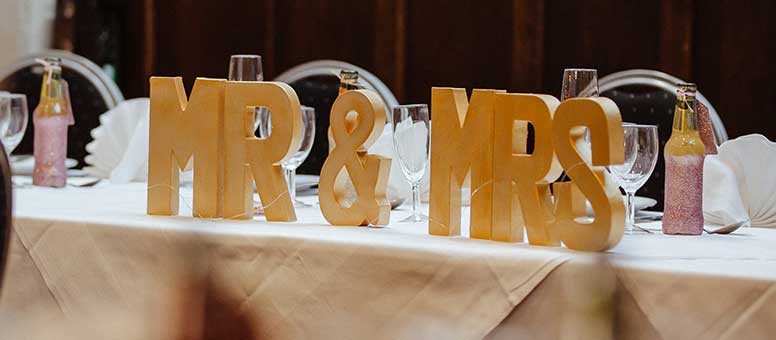 There are many reasons why a small wedding is actually a good idea. It's true that you're probably wondering how to have a small wedding and make it memorable, but not only is there less planning and overall work involved, it also allows you more time to actually enjoy the day.
Small weddings have become quite fashionable over the years, with many couples shunning the 'traditional' huge wedding bash and deciding to go smaller. This isn't just a cashflow issue, it's simply that some couples want to spend more time with their guests and focus on the day, rather than becoming distracted with far too many details and stress.
Let's look at a few small wedding ideas for 15 guests and explain why a small wedding can be the best route forward, regardless of Covid-19 restrictions.
1. You Can Work With a Smaller Budget
15 guests means a far lower budget is required, so a small wedding saves you cash from the get-go. It could actually mean that you can choose to really go to town on the various elements of your day, therefore making it super-memorable. Regardless, a smaller wedding means you'll always spend less money than you would on a huge wedding.
2. You Escape Wedding Stress (To a Degree)
Okay, you might have some stress because weddings in essence are stressful, but a small wedding is always going to be far less stressful than a huge bash! There is much less that could go wrong, and by planning things out carefully you can actually get to enjoy every second of the day, rather than panicking about what comes next.
3. You Get to Throw Out The Rule Book
In order for a large wedding to run like clockwork, it often has to be traditional. However, you can think of some really quirky small wedding ideas when you have a more intimate gathering, because there is more time and money to play with.
You can really get into the details and make things perfect, simply because with 15 people, you have far less to think about.
4. You Can go to Town on The Catering
Everyone loves food! If you're a foodie and you want your wedding to be a sumptuous feast, that's going to be pretty difficult with a huge crowd. However, when you have 15 people at your intimate gathering, you can enjoy a delicious gourmet meal as part of your day. You also get to enjoy more cake too!
5. You Can Really Make it About The Vows
Let's be honest, many weddings turn into such a huge deal that we forget what they're really all about – the vows you're making to one another. With a small wedding you can really focus on that element and get the most out of your day. It's likely to be super-memorable for all the right reasons as a result.
6. You Get to Really Spend Time With Your Guests
When you have hundreds of people at a wedding, it's impossible to actually speak to everyone. As a result, you may not be able to speak to everyone and you could end up upsetting Auntie Norma or Uncle Brian! When you have 15 people, you really get to spend quality time with your chosen few.
7. More Choice of Wedding Venues
Of course, wedding venues need to be Covid secure, but a small wedding venue is much easier to find, compared to somewhere for a huge shindig. We're a little bias, but we believe The Rose and Crown Hotel is the perfect spot for a romantic, small wedding to remember.
Small Wedding Ideas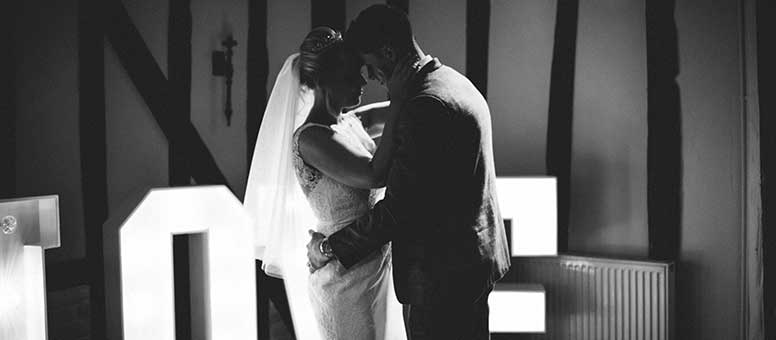 So, we know why a small wedding is a good idea, and hopefully you'll have shaken off your upset at not having the huge bash you planned, to a degree. Now, let's really get you excited with our list of small wedding ideas that you might like to use.
1. Plan Your Guest List Carefully, But Not Everyone Has to Miss Out
Yes, you can only have 15 guests, but you could also have a camera and screen set up, live streaming the most important parts of your day to your other friends and family at home! Virtual weddings are becoming a big deal and with Zoom and other video calling software, everyone can be a part of it!
Of course, you need to choose those who are going to be in attendance, your key 15, very carefully and make sure that you stick with those who are closest to you.
2. Go With What You Really Want
Weddings can become about everyone else when the party is a big one, but when you're thinking about small wedding ideas, you can choose the ones you like best and not what everyone wants for you. You can be a little selfish and make your wedding day more about you, just as it should be!
3. Consider a Themed Wedding
One of the quirkiest small wedding ideas is to go with a theme. Fewer people means more chance of it actually working, and that means you can really make the day something to remember for the very best reasons. Just be sure to communicate the theme to your 15 guests with plenty of notice, so they have time to plan their outfit!
4. Opt For a Gourmet Meal
If you're going to go to town with catering, choose a seriously gourmet meal and give everyone a slap up dinner they won't forget! The money saved on a smaller wedding gives you the scope to do this and you can choose whatever you want. You'll also get more of it, which isn't the case when you have a huge party.
5. Personalise The Small Details
There are many intimate wedding ideas you can go with, but personalising is the best one. You can make personalised napkins for your 15 guests, and you can create wedding favours that are tailored to the people attending, not just opting for something generic.
6. Shun The Traditional
We mentioned themes earlier, but you can go against the traditional ceremony layout and have something completely different with a small wedding. You can have a circle rather than the regular rows, or you can go outside and have people standing if you really want to! Whatever you want to go with, it will be so much easier to make it work with a small wedding.
Discover Rose and Crown Weddings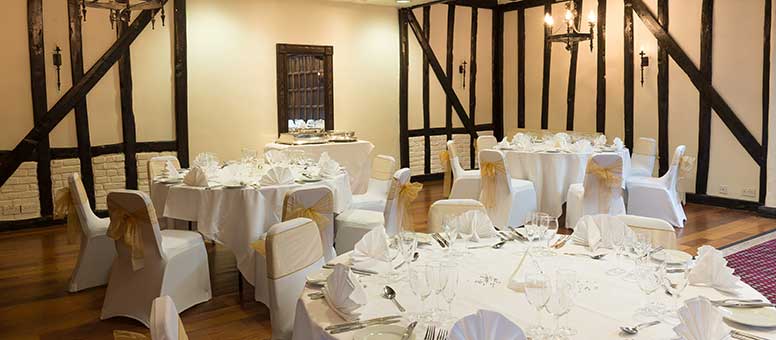 How do you feel about having a small wedding now? Hopefully you're excited and starting to visualise your own big day in your mind. You can easily make wedding reception ideas for small weddings work; they don't have to be huge affairs to make them memorable.
For more info about weddings at The Rose and Crown Hotel, to book a show-around or if you just need a little advice from a friendly ear, why not contact our experienced wedding team on 01206 866677 or get in touch with our online enquiry form.