To help you decide which is the right month to choose for your wedding day, we've come up with a list of pros and cons for each month, one by one.
Here's a quick summary, but keep scrolling down to read a full list of reasons for each month.
January & February
A great way to ring in the New Year. Wintery scenes are beautiful for wedding photos.
March & April
Pleasant weather, lighter evenings and budding trees/blossom.
May & June
More reliable weather and many of your guests won't have gone on their holidays yet.
July & August
Warm weather and wedding pics look great. Good honeymoon choices available too.
September & October
Autumn wedding snaps are beautiful! Lower prices and a cosy feel.
November & December
Always a party atmosphere, festive and very romantic around Christmas.
---
REASONS TO GET MARRIED IN JANUARY
A good budget choice and the perfect way to cheer everyone up after Christmas.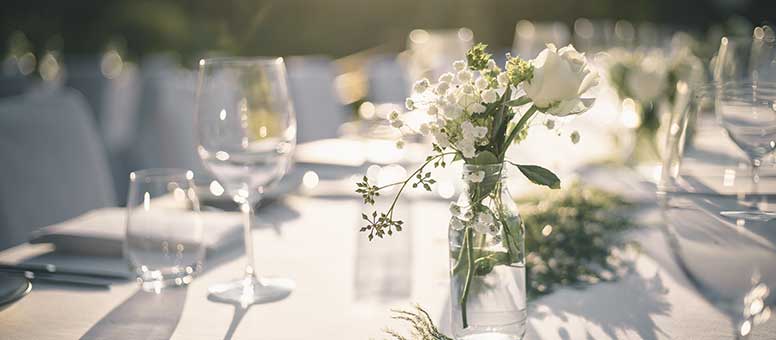 Pros:
– Your budget will go further as this is traditionally the cheapest month to get married
– You can pretty much guess the weather, so no surprises
– A cosy atmosphere that everyone will love
Cons:
– Your guests may not have the cash to attend a wedding in January
---
REASONS TO GET MARRIED IN FEBRUARY
The most romantic month of the year. This is a time of year oozing with love.
Pros:
– What better than the month that Cupid shoots his bow of love?
– If you avoid Valentine's Day, you will still benefit from lower prices, thanks to winter
– Far-flung destinations are great choices for honeymoons at this time of year
Cons:
– A Valentine's Day wedding might be your dream but it might cost you much more
---
REASONS TO GET MARRIED IN MARCH
Spring has sprung giving you loads more choice for a UK wedding.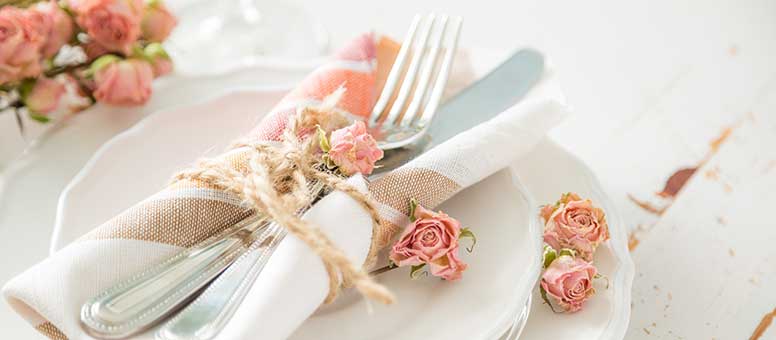 Pros:
– Spring means a new start and a new season – a great metaphor for the start of your marriage
– Longer days means fantastic evening wedding receptions
– Outdoor photographs will look fantastic with blossom and budding flowers
Cons:
– The weather can still be quite unpredictable in March so outdoor weddings aren't ideal
---
REASONS TO GET MARRIED IN APRIL
Low prices and good weather make April the perfect spring month for your wedding day.
Pros:
– Prices are typically low in April as it's still considered low-season
– Beautiful weather is possible in April and contrary to popular opinion, it's not the rainiest month in the UK
– More availability compared to the peak season in the months ahead
Cons:
– This time of year often contains religious holidays that could clash with your wedding
---
REASONS TO GET MARRIED IN MAY
Take advantage of lighter nights and warmer weather by getting married in May.
Pros:
– Fantastic weather and the ideal time for a spring/early summer wedding
– One of the best months for outdoor weddings, due to light nights and an oncoming summer feel
– Lower cost for wedding venue packages at this time. Prices rise sharply from June onwards
Cons:
– Some consider May to be unlucky for weddings, but if you're not superstitious that shouldn't matter!
---
REASONS TO GET MARRIED IN JUNE
You'll be choosing a warm, summer wedding which doesn't clash with the busy school holiday season.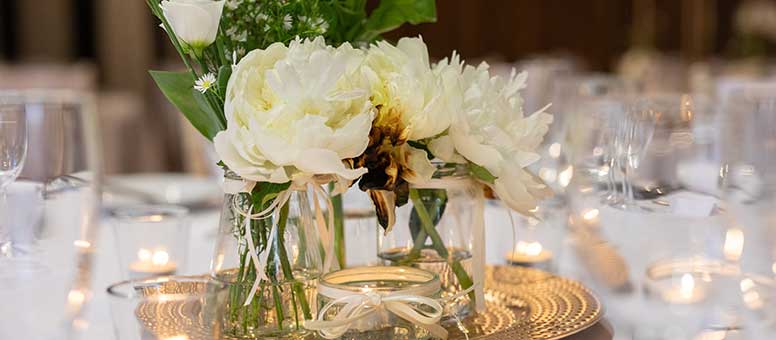 Pros:
– June is supposed to be a lucky month to get married!
– Most of your guests won't be away on their holidays just yet
– Honeymoon choices are plentiful and lower in price at this time
Cons:
– June often means sporting events aplenty in the UK, so it might be worth checking that you're not clashing with anything your guests wouldn't want to miss.
---
REASONS TO GET MARRIED IN JULY
Embrace the beauty of the good old UK summer and host an outdoor wedding for everyone to enjoy.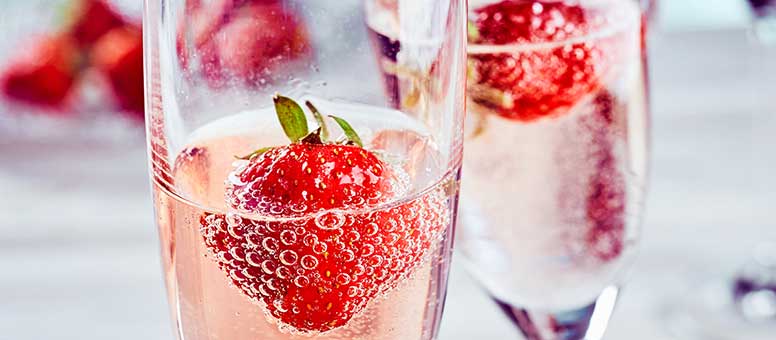 Pros:
– The best time of year for an outdoor wedding
– Best month to get married for those who want a true summer vibe to their big day
– If you choose early in the month, many of your guests with children won't have jetted off for their summer holiday yet
Cons:
– Prices are on the rise at this time of year and you'll need to book well ahead
---
REASONS TO GET MARRIED IN AUGUST
Typically the UK's warmest month, so no surprise that August is the most popular month to get married.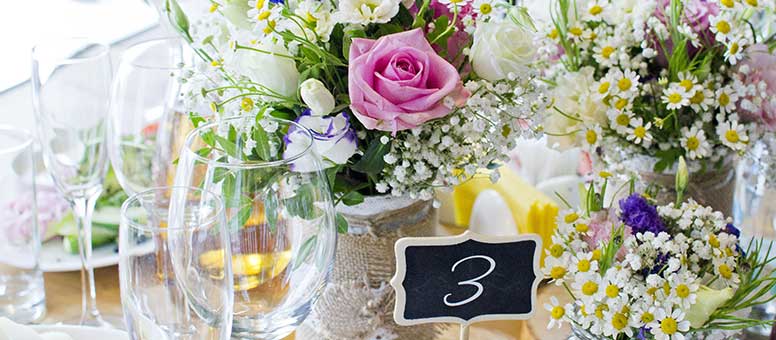 Pros:
– If you're a teacher or many of your friends are, this is the perfect time to get married
– The best chance for an outdoor wedding not spoiled by rain (fingers crossed!)
– A good opportunity for a classic English wedding outdoors with games and marquees
Cons:
– Peak prices for both the wedding venue and the honeymoon
---
REASONS TO GET MARRIED IN SEPTEMBER
The best of both worlds – still mild but with a beautiful autumnal feel.
Pros:
– Still pleasant weather but not quite as stifling as the past two months
– A better chance to book the wedding venue you want, as the peak season has passed
– The lighting in September is often better for outdoor wedding photographs, due to lower sun positioning
Cons:
– Schools restart at the beginning of September, so this could be a busy month for your friends with children
---
REASONS TO GET MARRIED IN OCTOBER
The ideal time for an off-peak, magical wedding day.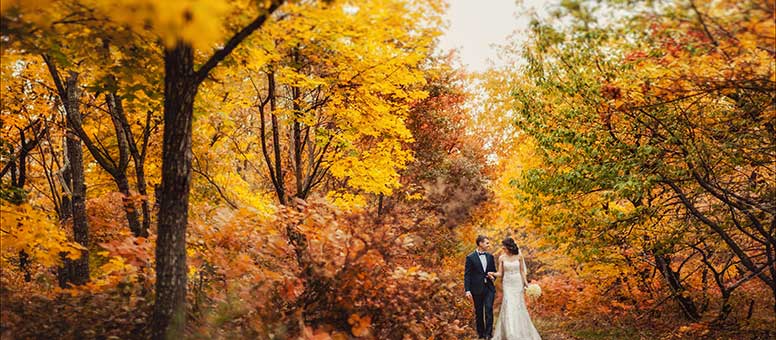 Pros:
– Beautiful wedding snaps thanks to those falling orange leaves
– Increased availability of wedding venues up and down the UK
– If you want a themed wedding, Halloween is the perfect time!
Cons:
– Evenings can be a little chilly so outdoor wedding receptions are out
---
REASONS TO GET MARRIED IN NOVEMBER
Weddings with fireworks! Cheer up November while everyone is waiting for the festive season to start.
Pros:
– Lower prices as November isn't a typically popular time for weddings
– Bonfire Night could be a great themed wedding opportunity
– The weather will be chilly but it's not as cold as the following months will be
Cons:
– If you want to have wedding photographs taken outside, you're very much at the whims of the weather during November
---
REASONS TO GET MARRIED IN DECEMBER
Embrace the festive season and combine it with a celebration of love.
Pros:
– It's party season so everyone will be in the mood to celebrate!
– Why not get married on New Year's Eve or have a Christmas theme?
– The cosy feel of December is perfect for a winter wedding
Cons:
– Could be an expensive month to get married in and you'll need to book well in advance
---
HAVE YOU CHOSEN YOUR MONTH?
Many people ask 'what time of year do most people get married' but the truth is that it comes down to your preference. Everyone is different when it comes to choosing when's the best time to get married.
It's about weighing up the pros and cons of each month and finding the best fit for you and your future spouse.
Once you've decided when you're going to get married, you need to decide on your wedding venue.
The Rose and Crown Hotel is a beautiful hotel in the heart of historic Colchester. We're the ideal wedding venue for any month of the year, with special packages for the off-peak months too.
Our romantic 14th century hotel is able to accommodate weddings for up to 160 guests and is a truly unique and enchanting location to begin your married life.
---
LET US TAKE YOU ON A TOUR…
Watch our wedding video to see what can be achieved at The Rose and Crown Hotel Colchester with the help of some of our preferred suppliers.