If you're looking for an alternative to the usual tourist destinations such as London and Manchester, how about a few days in historic Salisbury?
Home to our beautiful sister hotel, The Red Lion Hotel, Salisbury is a must for anyone looking for some history and culture.
Why Visit Salisbury?
There are many reasons why you might want to visit Salisbury. Not only is the city centre itself packed with things to see and do but the surrounding area is pretty fantastic too.
Bursting with history, there's music, arts, theatre, gastronomy, shopping… You name it, you'll find it.
Just a stone's throw away you'll find Stonehenge, which is without a doubt one of the most famous and most visited spots in the whole of the UK. If you're visiting with little ones, a day out at Peppa Pig World is sure to be a hit too!
Within Salisbury itself you have the famous cathedral that draws so many visitors every year.
Put simply, there's not much that Salisbury doesn't have and you're sure to have a wonderful visit, no matter what time of year you go.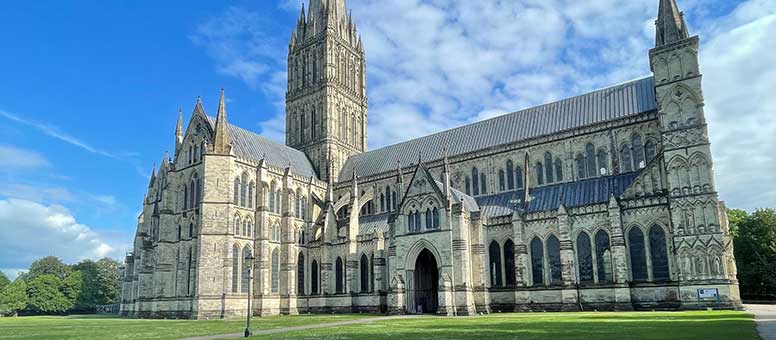 A Historic Place to Lay Your Head
Of course, with all that sightseeing and general merriment you're going to need somewhere comfortable to lay your head.
The Red Lion Hotel is the oldest purpose-built hotel in Europe, dating back to the 13th century! That means you have a chance to stay in the middle of literal history – you can't get much more immersive!
Located right in the city centre, it's packed with standalone amenities that will brighten your stay. For instance, the most famous afternoon tea in Salisbury can be found at The Red Lion Hotel.
If you've never had one, this is a true experience to add to your bucket list. There's something sumptuous and special about sandwiches with the crusts cut off and delicious pastries, all served in the old-fashioned way.
You can also enjoy alfresco dining in the beautiful courtyard underneath one of the world's last remaining Virginia creeper vines. Or why not enjoy a few drinks the ancient bar.
If you're seeking pure luxury, book the Seamstress Suite, a bedroom that is truly one of a kind. If you've ever dreamed of staying in a room with a feature bath in the middle of the bedroom then this is your vibe!
You also get amazing views over the courtyard and a 6ft bed. What more could you ask for?
With more than enough to see and do for a few days and plenty of spots in and around the area to visit by car, Salisbury is a great choice for your next UK staycation.