They say good things come to those that wait and we think that's definitely the case with one of our latest couples to tie the knot at the Rose & Crown Colchester. Roberta (Bobby) and Colin Smith, who married at the Rose & Crown Hotel in a beautiful ceremony on 24th of August this year, first met at infant school. But it would take quite a few more years before Colin would get to call Bobby his beloved wife.
Just back from their glorious Mediterranean honeymoon (jealous, us?) Bobby and Colin kindly shared some of their official wedding day photos with our wedding planner Lisa. Here's the story of their special Rose & Crown wedding day, and how love first came to blossom between these two old school friends…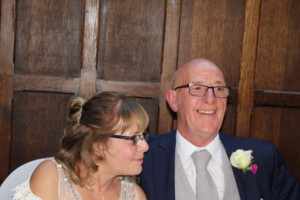 Colin & Bobby Smith have known one another since they were children but the pair lost touch after secondary school and went their separate ways. It wasn't until a family function brought them back together by chance that they had the opportunity to meet all over again.
After an evening of dancing the pair arranged to meet up for an official date. It was a further four years until this fateful first date took place, but from that moment forward there was no going back. Bobby and Colin were soon engaged (Colin popped the question on bended knee in a restaurant inside the Sydney Opera House during a trip to Australia) and on August 24th the couple finally said their "I dos" in front of 49 friends and family.
"A beautiful day in a very pleasant location"
After the pair had been crowned husband and wife they, and their guests, celebrated over a delicious three-course wedding breakfast cooked up by our in-house hotel chefs, with leg of lamb steaks served as the main dish. Once the food had settled and the speeches been given the couple took to the dance floor where they marked their official first dance with the beautiful Mel Carter number "Hold Me Thrill Me Kiss Me".
Asked about their wedding day Colin remarked that "it was a beautiful day held in a very pleasant location, the staff being really attentive, polite, and making our day so very special." Music to our wedding planner Lisa's ears who helped the couple put together the details of their big day with us.
If like Bobby and Colin, you're looking for a special venue to get married in within Colchester, come and pay us a visit or call 01206 86 66 77. Our Rose & Crown wedding planner Lisa will be more than happy to give you a guided tour of the venue and discuss the options we have for our wedding packages and special offers available.
If you're looking for wedding venues in Colchester, we'd love you to get in touch.