We're extremely excited to announce that Lisa Grantham, our wedding coordinator at The Rose & Crown Hotel has been selected to represent the UK at the World Scout Jamboree (WSJ) in the USA next summer!
It's the first time that Lisa, who has been a Scout leader for almost 30 years, has been singled out to attend the event. Understandably, she's incredibly excited at the recognition and the opportunity to represent her home country across the pond, in West Virginia in July 2019.
The World Scout Jamboree is a highly prestigious occasion in the global Scout calendar, which only happens once every four years. Next year's Jamboree will mark the 24th since the event started, with Scouts in attendance from troops all around the world. Each World Scout Jamboree centres on a unique theme, with 2019's now announced as "Unlock a New World". Representing the adventures that those attending the Jamboree will embark on, over the 12-day event in North America.
As well as Lisa, an explorer Scout from her group in Tiptree has also been selected to attend the high-profile Jamboree. Marking the first time an Explorer Scout has been invited since 1991 – only the second in the troop's history to be asked. So it really is a momentous opportunity for the pair to attend and fly the flag for Scouts back home in the UK.
In order to fund her trip to the Jamboree, and raise money for Scouts in third world countries to also be able to attend, Lisa has challenged herself to complete a Triple Chanel Swim. This will see her swim an astonishing total of 63 miles over the coming year in the lead-up to her departure! As well as this Lisa has organised an 80's disco evening with our very own resident DJ Buzby! So if you fancy a night of dancing and nostalgia why not pop down to the hotel on 26th Jan. It's just £10pp with all proceeds going towards the trip!
Lisa has set up a fundraising page to reach her £2995 goal and has already received generous donations from willing benefactors towards her target. With all additional proceeds she raises going directly to helping Third World Scouts make the journey next July.
Lisa's just completed mile 21 of her swim challenge – so only 42 more to go! And she's been wearing her Scout scarf with pride, both at work – and at the pool too – to celebrate the Scout's 111th birthday.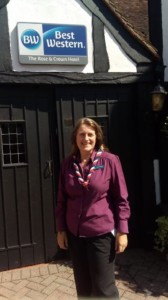 Congratulations Lisa and from everyone at the Rose & Crown Colchester and Good Luck!
If you'd like to make a donation to Lisa you can do so via her Just Giving page.