On May 5th 2019 The Rose and Crown Hotel Colchester was once again dressed to the nines as friends and family united to celebrate a very special occasion – the wedding of Andrew Ramsden and Carly Fidgett. Here's a little recap of the day's events and the story of how this now happily married couple came to be Mr & Mrs Ramsden.
Where it all began…
Andrew and Carly's paths first crossed at work when Andrew innocently asked Carly if he could borrow a pen. Despite the fact she refused his request (by her own admission Carly is extremely precious about her stationery supplies) Andrew wasn't dissuaded from pursuing a friendship with Carly. He convinced her to join the office cycling club, which as a keen cyclist he was already a member of and the rest as they say is history!
How Andrew popped the question
It was while on an overnight trip to London that Andrew asked Carly to do him the honour of becoming his wife. He popped the question at the Champagne bar in St Pancras railway station (to which Carly said an enthusiastic yes) before whisking her off to the West End to watch The Jersey Boys, followed by a romantic dinner and overnight hotel stay.
The Wedding
Carly and Andrew, who live locally in Colchester, were joined by 55 day guests and 80 evening guests to celebrate their wedding at The Rose and Crown Hotel Colchester.
After tucking into a wedding breakfast of steak and ale pie served with mash potato and veg (our wedding planner Lisa also organised a special side order of baked beans for the bride and groom on request) the couple danced their first dance to Can't take my eyes off you by Frankie Valli and The Four Seasons, in front of a pink & purple themed room, filled with their closest friends and family.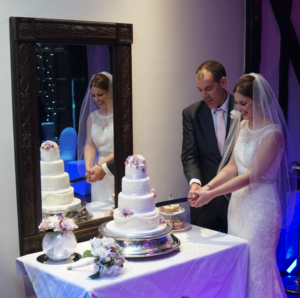 The Honeymoon
Wanting to celebrate their honeymoon in Mexico, but discovering May marks the beginning of the country's rainy season, Andrew & Carly treated themselves to a pre-wedding honeymoon in January. Spending two weeks in the fabulous Playa Del Carmen, with blue sky, blue sea and uninterrupted sunshine, the couple enjoyed one of the best holidays they'd ever had.
However, not wanting to return to work immediately after their wedding, the two organised a short 'mini-moon' in Marrakesh for four nights, giving them the perfect time to relax and enjoy their newly married status in style.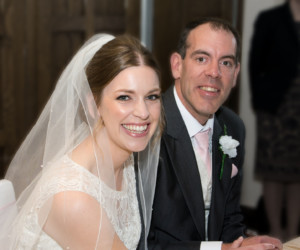 When asked about the experience of getting married at The Rose & Crown, Carly said;
"We just want to say how fantastic Lisa and the team were. They were so kind and helpful – nothing was too much trouble. The venue looked fantastic, the food was delicious and the whole day was perfect. We look back at it with the fondest memories and only wish we could do it all again."
Once again, congratulations Andrew & Carly! It was an absolute pleasure to host your wedding at The Rose and Crown Hotel Colchester and we wish you love, good health and happiness for the future.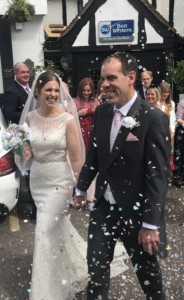 Enquire about your Rose and Crown Hotel Wedding
If like Carly and Andrew you're seeking a historic wedding venue in Colchester or a central hotel to tie the knot in, we'd love to show you around the Rose & Crown. Take a look at our wedding page for more information or call us on 01206 866677 to organise a tour of the venue.